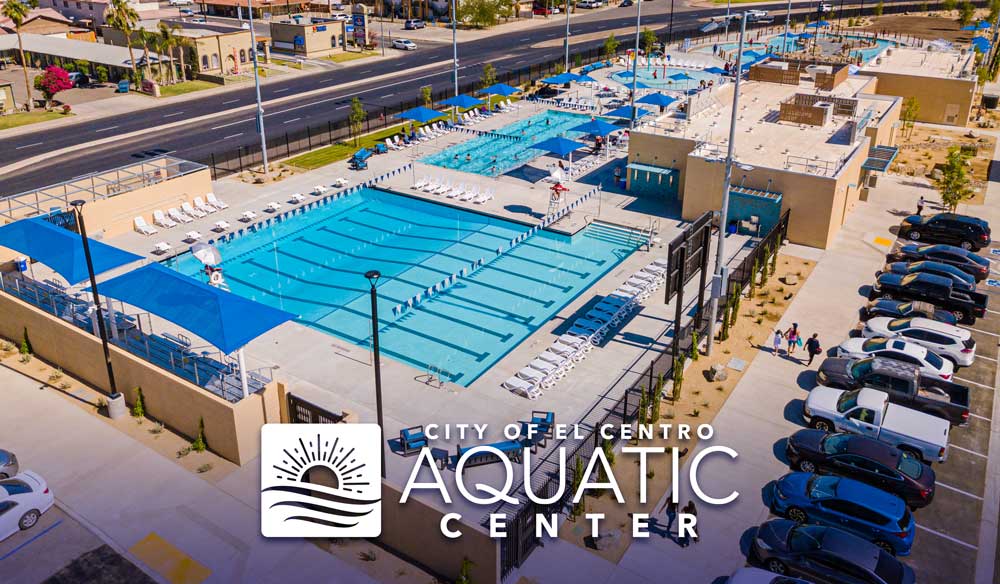 The Aquatic Center sits on over 3.4 acres of land and includes an eight-lane competition pool, a three lane warm up/instructional pool, a children's activity pool and a 5,353 square foot Lazy River. Also included on the pool grounds is an Aquatic Building that includes: A party/training room, restrooms & showers/lockers and a concessions area.
Address: 540 Park Avenue, El Centro, CA
Phone: (760) 335-4550
Office Hours: Monday – Thursday: 5am – 8pm
Friday: 8am – 5pm
Daily Admission Fees
El Centro Residents: $5.oo per person
Non – El Centro Residents: $8.oo per person
2 years and under: FREE
The Aquatic Center currently only accepts Cash & Check Only
Everyone entering the facility must pay their resident fee and complete the new updated Facility Liability and Release Form prior to, or upon your first visit.
Children that are not potty trained or still in diapers are to have a "Swim Diaper" on at all times when swimming. Swim Diapers are available for purchase at the Snack Bar.
All personal flotation devices must be U.S. Coast Guard Approved. No plastic, inflatable "floaties" are allowed. If you are in need of a lifejacket, we have lifejackets free of charge to use during your swim. Please ask a lifeguard to help find the correct fit for your child. Currently we have children sizes: X-Small, Small, and Medium. Lifejackets are given on a first come, first serve basis. Children wearing a lifejacket or their own personal flotation device MUST be accompanied at all times by a parent/legal guardian in and out of the water.