What Can I Put In My Recycling Container?
The City provides curbside collection of trash, mixed recycling, and green waste. The City of El Centro takes its recycling to a processing center. In order for the recyclables to be processed, they need to be separated, dry, and free of trash. Knowing what to recycle and how to recycle can be confusing. One wrong item in the recycling container can contaminate the whole load. When in doubt, use the trash container.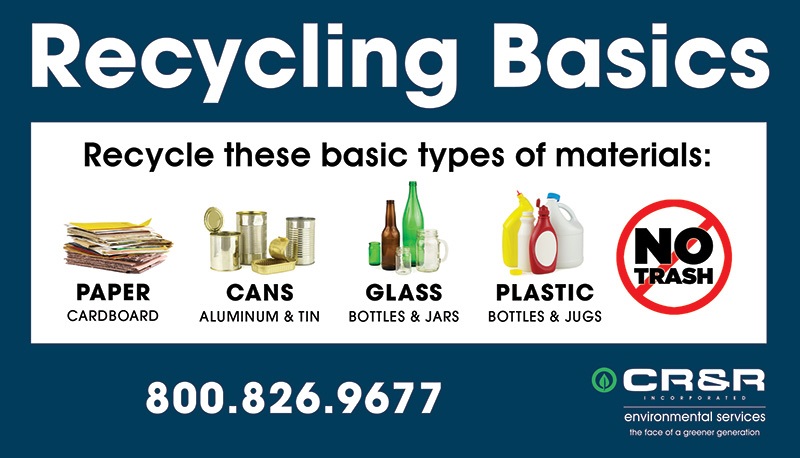 Here are some guidelines for recycling:
Paper & Cardboard
Flattened cardboard, newspaper, magazines, office paper, and common mail can be recycled as long as they aren't  contaminated by food, liquid or waste.          
Break down cardboard boxes. It makes them easier to process and leaves more room for other recyclables.
Paper can't be recycled if it's mixed with other materials. Remove the bubble wrap or plastic windows before recycling padded packaging or security envelopes.   
Metal Cans
Before recycling food and drink cans, clean out any residual materials.          
Some metal cans have an insulated coating that might not be recyclable. When in doubt, throw it out!
Plastic
While hard plastic containers like water bottles, milk jugs, and detergent containers can go in your container, flexible plastics like grocery bags, bubble wrap, and styrofoam require special handling and can't be recycled curbside.
Lids are too small to recycle by themselves so put them on the containers or throw them away.
If you can poke your finger through the plastic, it doesn't belong in your recycling container.
Food and condiment bottles are great recycling candidates. Just be sure they're rinsed and dry before you put them in your recycling container.
Only plastics with resin codes #1 and #2 are recyclable. 
No Soiled or Wet Materials
One dirty item can contaminate an entire truckload, so make sure recyclables are empty, clean, and dry.
Once cardboard or paper comes into contact with food or liquid, it can no longer be recycled.
Don't Bag or Contain
-Never bag or bundle your recyclables. Items should be placed in the container individually.
-Plastic bags can get caught in the machinery causing delays and damage to equipment.
-Bundled recyclables can't be sorted at the facility, so all of it ends up in a landfill.
No Connected or Mixed Materials
When two or more materials are connected they cannot be recycled as is, even if they're all recyclable.
If all of the mixed materials are recyclable, like a plastic package with a paper insert, separate the items and put them in your container individually.
If only part of the mixed material is recyclable, like a window enve­lope, separate the plastic portion from the paper and recycle the paper.
Green Waste
Grass clippings, leaves, and other yard waste may be recycled.
Do not put palm fronds or succulents in the green waste.
Do not place dirt, rocks, or construction materials in the green waste.
Pickup Time
Please make arrangements to have your refuse and recycling containers curbside by 6:00 a.m. on your collection day.
Parking
Please do not park within 10-15 feet of the container, and refrain from parking in cul-de-sacs on your collection day.
Location of Containers
We suggest that you place the containers in the street with the wheels against the curb. Containers should be placed at least two(2) feet apart from each other. Please do not place the containers on the sidewalk.
Containers
Trash, recycling and green waste will only be collected in City-provided containers.
When moving the containers, it is best to steady it by placing your foot behind the container's wheel before tipping and rolling. It is generally easier to pull the container uphill and push (guide) the container downhill.
Containers are to be removed from the curbside within twelve(12) hours after being emptied. Prompt removal discourages container theft. Residents are encouraged to store automated containers out of view from the street.
The collection containers are the property of CR&R and have a projected life of ten(10) years. It is the responsibility of the resident to prevent theft, damage, and undue wear to the containers and to keep them clean.
The City will not collect earth, rocks, mortar, concrete, plaster, or building materials in the containers. Please contact CR&R to rent a bin or roll-off for disposal of these materials.
Do not put hot ashes, hot cinders, smoldering coals, or burning materials in the containers. A replacement fee will be charged for damage.
The City will not collect containers with Household Hazardous Waste, such as paint and used motor oil. Please call IVRMA at 1-877-732-9253 for information on free disposal of these items.
The Need for Extra Trash Containers
In order to keep refuse collection fees as low as possible, residents are encouraged to use the recycling and green waste programs to reduce the amount of trash landfilled. These conservation practices will help eliminate unnecessary waste, conserve critical landfill space, and recover valuable materials and energy resources. If, over time, you have extra trash that cannot be managed within the trash container you selected, please contact CR&R. A larger trash container can be provided on a temporary or permanent basis for an additional fee.
Thank You For Your Cooperation.
For more information, call the Environmental Compliance Division at 760-337-3177.